CAKE SMASH PICTURES IN FAIRFAX COUNTY BY A NORTHERN VIRGINIA CAKE SMASH PHOTOGRAPHER
Last month, I had the honor of capturing Baby M enjoy his nautical themed cake smash photoshoot in Reston, Virginia. At first he was a bit shy and more interested in the balloon art. I mean, who wouldn't be mesmerized by the balloon art? They're bright, colorful, and so adorable.
As soon as he warmed up, we were dancing (yep, him too) to different nursery rhymes while he was happily enjoying his nautical themed cake. As a matter of fact, he was dancing in the 2 of the photos above (except him standing holding a piece of cake). He is my spirit animal, because I love dancing and eating; and maybe sometimes I do both. Haha!
And look at him rock that nautical themed outfit? Isn't he the cutest thing? I'm starting to think about Baby R's cake smash photos and I might do the same theme for him just because Baby M is the so adorable in that outfit.
J – Thank you so much for trusting me to document Baby M's nautical themed cake smash photos in Northern Virginia. It is an honor to be able to capture something so special like your sweet baby boy turning 1. I hope you loved seeing him through my lens. 🙂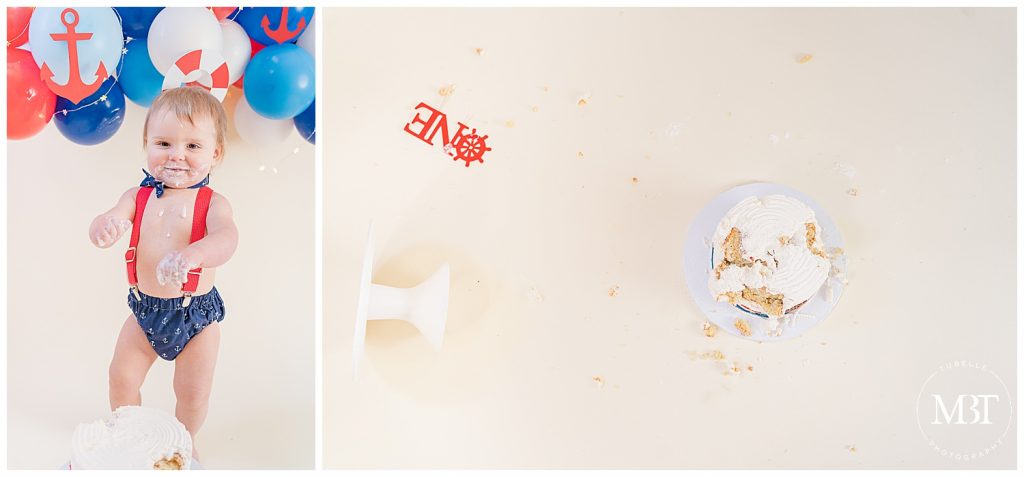 Special thanks to these amazing vendors for making this nautical themed cake smash photos perfectly adorable:
Cake: Ashley Bakes Cakes
Balloon art: Bristow Balloons
Outfit: Etsy
————————————————
If you found this post because you are looking for a Northern Virginia photographer, you've come to the right place. I am a family photographer, maternity & newborn photographer, & senior photographer. I also offer mini sessions. My clients get access to beautiful outfits from the TBP Client Closet for their session. I would love to freeze those special moments in time for you to cherish forever. If you felt inspired by this session and you'd like to learn more about what I offer, send me a message so we can chat. I look forward to hearing from you!
Fairfax County Cake Smash Photos
Prince William County Milestone Pictures